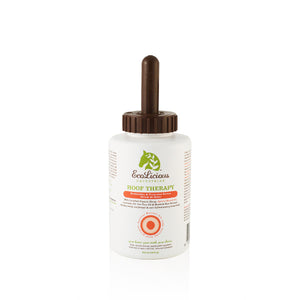 EcoLicious Equestrian
EcoLicious Hoof therapy
Regular price
$36.95
$0.00
Unit price
per
Restorative, hydrating and protective serum. 
Protect and strengthen your horse's hooves with our Therapeutic Hoof
Conditioner. The best things originate in nature, and this Restorative
and Protective Hoof Serum is packed with 100% natural ingredients,
and contains no petroleum or mineral oil. Certified Organic Hemp Oil,
Wheat Germ Oil, and Apricot Kernel burst with essential fatty acids,
vitamins A & E, and minerals vital for growth of strong and healthy
hooves. Hoof Therapy feeds moisture to dry, cracked, and brittle
hooves, prevents chipping, softens hardened frogs, and helps hooves
withstand the elements. It also boosts natural hoof colour for that
show-ready look. Chips and cracks can be a gateway to bacteria –
that's why we have added wild-crafted essential oils of Tea Tree,
Lavender, and Burdock Root Extract, known for their antibacterial
properties. Best of all, each drop of this conditioner is jam-packed with
natural goodness, so you can use less. Healthy hooves – the way nature
intended. Sweet Orange Essential oils lends a cheerful scent.
HOW TO USE
Shake VIGOROUSLY! Natural separation of oils and extracts may occur. Apply serum onto hoof walls, frog. Work well into the edge of hair (coronet). For best results, use 3 to 4 times a week or daily.
Packaged in 100% recycled plastic.
472 ml (16 FL OZ)
---